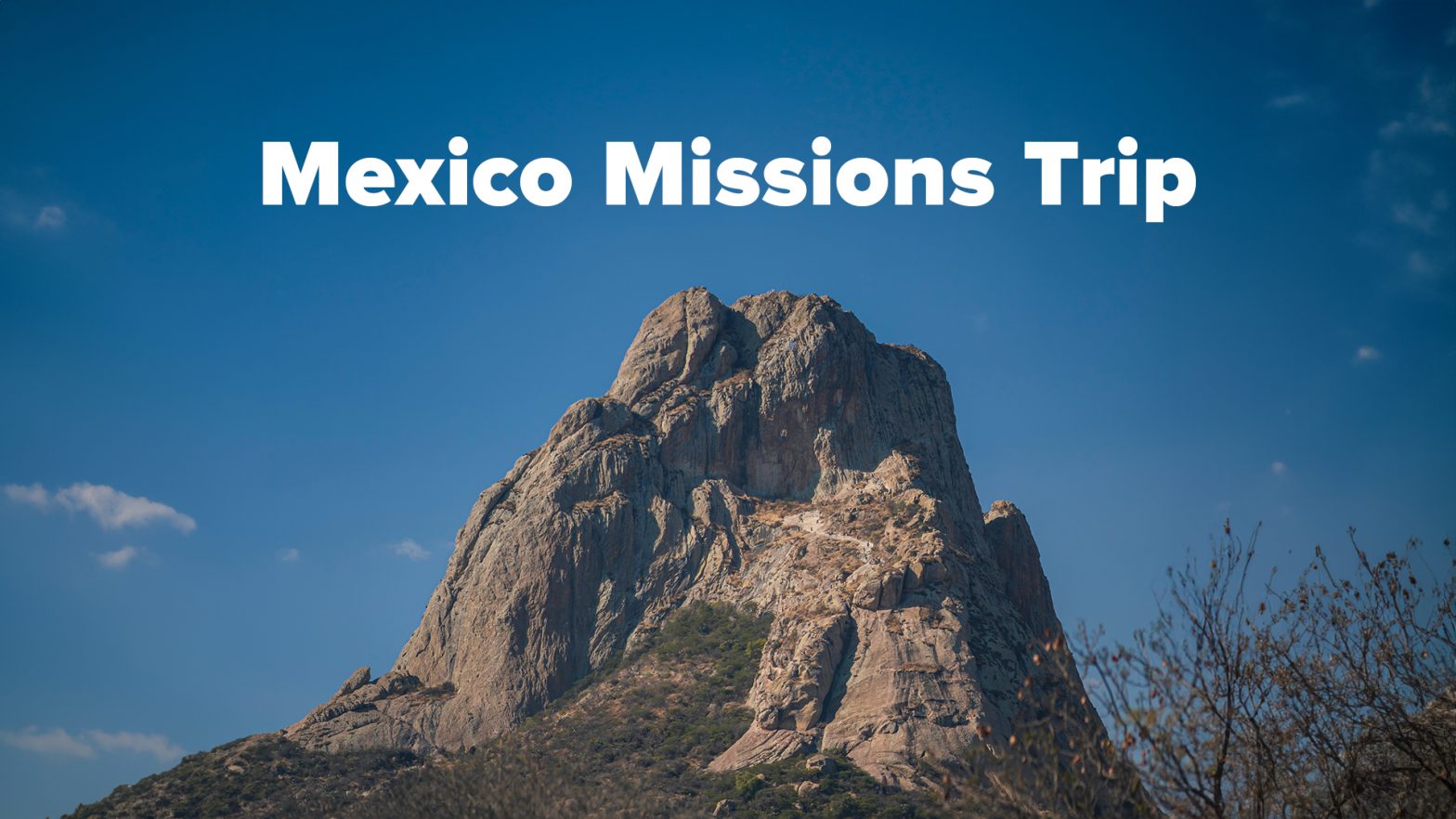 Mexico Missions Trip
August 13 - 20
Bernal, Mexico
** Registration is currently closed **
The 2023 Mexico mission trip will be to Word of Life (WoL, or in Spanish, "Palabra de Vida") Mexico, located in the city of Bernal.   Bernal is a small, historic town 30 minutes outside the city of Queretaro. It is a national tourist destination for its famous "Peña", a 433-meter tall monolith rock formation. The town is one of many in the region protected by the Government of Mexico as a historic cultural site ("Pueblos Mágicos"), and is a favorite location for national tourism. The WoL property, as seen in the video below, is right in front of the Peña.
This is one of the least evangelized areas in Mexico and in all of Central and South America, also known as the "Circle of Silence".  Only 1% of the population here has ever heard the Gospel.
The ministry opportunity is to assist at the WoL Bible Institute's evangelistic summer children's camp. Both Spanish and non-Spanish speakers are welcome and needed. Each volunteer will be directly involved in ministering to nationals. We will be ministering alongside one of The Chapel's supported missionaries, Antonio Sanchez.
Volunteers are needed to serve in one or more of the many areas of need, although our historical focus has been in food service.  As other needs present, we may be needed to support such during the week.
TEEN CAMP VIDEO:
Note that we will be there for the younger-aged children's camp)
WHEN:
The trip will depart on Sunday, August 13 and return on Sunday, August 20, with the actual camp running from the 14th to the 19th.
COST:
The cost of the trip will be $1,300, inclusive of airfare.  This will cover meals, housing, and all transportation.  The Chapel can also provide a scholarship for some of the cost for members who make an effort to raise support.  Financial support from the Mission Committee will only be considered after the participants have raised or given 50% of the total cost.  Upon application, a $700 non-refundable deposit will be collected.
In addition to this, if the Chapel volunteer is a minor (16+), they MUST have a permission slip that needs to be signed by the Parent or Guardian in the presence of a notary public and notarized for international travel. This may entail additional cost.  Also, it would be recommended to purchase additional international travel evacuation and medical insurance to cover any potential medical bills while traveling overseas. Each volunteer should check with his or her medical insurance in regard to international travel coverage.
DOCUMENTATION REQUIRED:
–  Valid passport for the trip dates (must not be within 6 months of expiration as of August 20, 2023 – it must be valid beyond February 20, 2023).
–  All participants must come under a tourist visa with an INM form filled out at the port of entry (airport in Mexico)
HOUSING AND MEALS:
There is separate housing on campus males and females. The Chapel volunteers have the opportunity to share housing with WoL summer staff. This will help build relationships and immerse volunteers in the culture.
All meals for our staff will be in the cafeteria. There is some capacity to adjust meals for special diet restrictions, upon request. Bottled water is provided for volunteers at all times.
The facilities have a medical center with a doctor on campus. There is a hospital in town and some of the best medical facilities in the country are 30 minutes away in the city of Queretaro.